Warner Street Practice Chiropody, Podiatry and Complementarty Therapy based in Accrington we cover Blackburn, Haslingden, Rawtenstall, Whalley, Clitheroe Great Harwood
We provide our services to the entire region, chiropodist Accrington,chiropody Accrington,podiatry,Bio-mechanics,Reflexology,Bowen Therapy, Medical Foot Acupuncture,Reiki, Massage, Counselling EFT,Complementary Therapies,CCS Foot Care products,Aromatherapy products,chiropody Accrington,chiropody Blackburn,chiropody Rossendale,chiropody clitheroe,chiropody valley,chiropody haslingden,chiropody rawtenstall,chiropodist haslingden.chiropodist blackburn,chiropodist whalley,chiropodist padiham,chiropody padiham

Chiropody, Podiatry, Complementary Therapies in Accrington


To book an appointment or for more information on any of the services we provide,
please contact us by phone: 01254 875007 or email:
info@warnerstreetpractice.co.uk for appointments via email please allow at least 48hrs, cancellations via email must give 24hrs notice.

Address: 27 Warner Street, Accrington, Lancashire, BB5 1HN.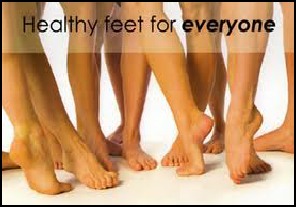 We are open six days a week Monday to Saturday and also offer evening appointments.
Chiropody | Podiatry | Massage Therapy | Reflexology | Reiki |
Bowen Therapy | Counselling | EFT | Accrington | Complimentary Therapy | Chiropodist




A visit to any type of clinic can be a worrying experience, here at the Warner Street Practice in Accrington you can be assured of a warm and friendly welcome from all our staff.
Alongside our affordable chiropody and podiatry treatments the practice offers a wide range of complementary therapies to ensure your health and well being.
All our staff are fully trained and qualified to the very highest levels in each of their chosen disciplines.
With four staff dedicated to chiropody and podiatry and a further four offering complementary therapies of various types the practice can cater for everyone's needs.
Our treatment rooms are equipped to the very highest standards and meet the rigorous hygiene standards set down by the HCPC and the SCP
The practice is open six days a week Monday to Saturday and also offer evening appointments and home visits.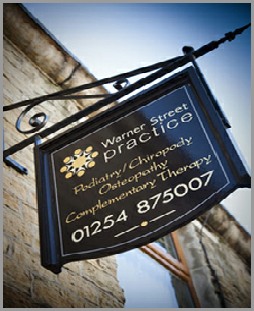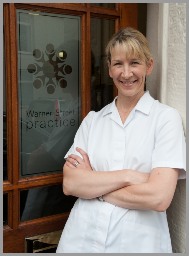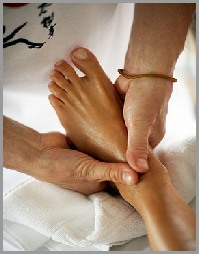 Our facilities are welcoming and comfortable and with on-street parking (max 2hrs) no need to worry about walking a long distance with those aching feet.